So you've crossed the stage, received your diploma, turned your tassel, and moved out of the dorms. College has officially come to an end and the big question everyone asks you …
"What are your plans after college?!"
Are you ready to take on that 9-5 job earning two weeks vacation once a year? Sitting at a cubicle, working tirelessly to pay off those student loans? Moving back home to the same surroundings and people you grew up with?
Now don't get me wrong – some people are ready to begin their careers, but what if that's not you? Maybe you don't feel ready to start an "adult job". Perhaps you don't even know your dreams, goals, or passions?
What if you don't even know who you are?
Here are 10 reasons why every college graduate should take a leap of faith and consider teaching abroad!
---
1) If you can speak English, you can apply to teach abroad! (Plus, foreign teachers are in high demand)
Great news! If you're a native English speaker with a bachelor's degree, you can apply for teaching opportunities abroad. Especially if you're fresh out of college and aren't sure what you want to do with your degree, teaching abroad is perfect. As long as you have a bachelor's degree, you can teach any subject whether it's English (the most common), science, math, or art.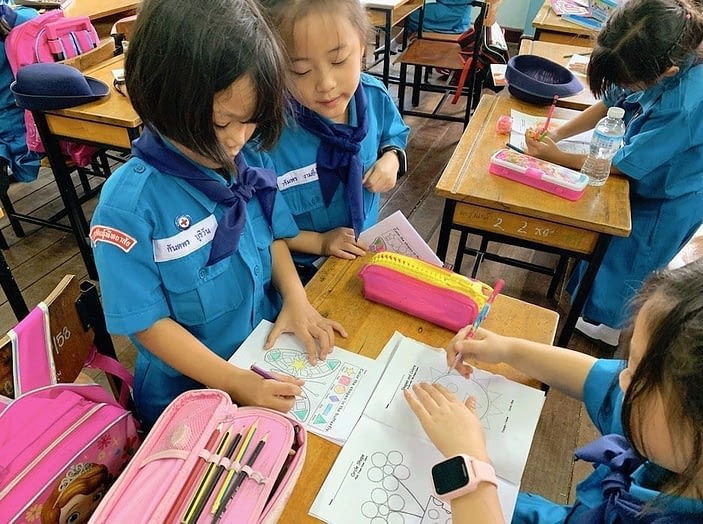 Also, you don't have to worry about not finding a teaching job – there are SO MANY positions available in all levels (preschool, primary school, high school, college, private classes, etc.). And because of the high turnover (most foreign teachers will only work for a year or two) and increasing value in learning English, the job market is MASSIVE. Thousands of positions are readily available to native English speakers, making it easy for recent college graduates to secure teaching opportunities abroad.
---
2) Teaching opportunities abroad don't have many requirements
In addition to a bachelor's degree, some schools require a TEFL (Teaching English as a Foreign Language) or TESOL (Teachers of English to Speakers of Other Languages) certificate, but they're easy to obtain and last a lifetime. As long as you have one of those certificates, securing a teaching opportunities abroad will be easy. So you don't necessarily need any prior experience teaching (although it definitely helps); all you need is to be a native English speaker and hold a bachelor's degree in anything.
Click here to compare TEFL and TESOL certificates and see which one is right for you. In my experience, TEFL seems to be the most common certificate requirement.
---
3) You're essentially "paid" to travel!
Imagine coming home from work and then heading out to explore a new city at night, or flying to another country for a quick weekend getaway. That's what work-life balance looks like when you teach abroad! As a foreign teacher, you have numerous opportunities to see new places and experience new things, whether it's flying in a hot air balloon, bathing elephants at a sanctuary, or exploring ancient temples.
On top of your monthly salary, your school may even pay for accommodations (housing, a car, motorbike, etc.) or cover your airfare into the country. So in essence, your paycheck can be directly used towards traveling in your free time!
Typically, schools will cover rent, leaving you with only utilities to pay. Although less common, schools that don't provide housing or cover those expenses will help you find a place, and offer a higher monthly salary to leverage those expenses.
Remember, your priority is teaching 🙂 but what other jobs offer recent college graduates the chance to live abroad and travel the world?
---
4) Save LOTS of money on traveling in the long run
Country hopping is MUCH cheaper when you're living abroad. During my semester break, I traveled from Thailand to Bali, to Vietnam, to Taiwan, and back to Thailand. Each flight cost about $60 USD on average! Compare that to an $800 roundtrip for a week-long vacation to one country alone.
While you're teaching abroad, you don't have the stress of trying to see and do everything in a country within a limited amount of time. You can easily fly back during your next holiday or semester break. So instead of rushing to see and do everything as a typical tourist, you're able to travel at your own pace.
---
5) You can pay off student debt WHILE teaching abroad!
Who would've thought that recent college graduates can actually SAVE MONEY WHILE TRAVELING THE WORLD? Because most schools cover the cost of housing (or pay a slightly higher salary to offset rent), the bulk of your paycheck can be saved for traveling and paying off that lingering student debt.
Now before you get too excited, it's important to note that teachers' salaries vary significantly around the world. Generally, teachers in Europe, Latin America, and Southeast Asia will be able to support themselves comfortably and travel, but they may not be able to save up a significant amount. Whereas teachers in South Korea can save between $10,000 to $15,000 USD annually (after expenses). Those in Japan, Vietnam, and China can save anywhere from $5,000 to $8,000 USD annually. If saving money is one of your priorities, then placement is definitely a huge factor to take into consideration.
When I taught in Thailand, I was paid 30,000 baht monthly (plus 3,000 for rent) and after four months of teaching, I managed to save around $900 USD. So even though as a foreign teacher, you aren't necessarily "rolling in the dough", the time spent immersed in another culture and having the freedom to travel frequently drastically outweighs sitting at an office job for that 2-week vacation.
See also: How to Start Teaching Abroad
---
6) See the world in a new light apart from tourists
Teaching abroad provides an incredible opportunity to immerse yourself in a completely new culture for an extended period of time – something the average traveler can never fully experience.
Living in the communities, creating relationships with locals, and allowing your students to share their lifestyle with you – there's no way you can experience this from a week's stay in a hostel. Immersing yourself in a new country gives you an in-depth taste of local cuisine, an appreciation for their celebrations/holidays, and insight on their day-to-day life.
---
7) Experience deep self-reflection and growth
Teaching abroad isn't all fun and games – there's A LOT of internal growth and self-reflection happening without even realizing. You're forced to learn how to navigate life alone in a foreign country with language barriers and culture shock. You're faced with moments of self-doubt and loneliness. But above all, teaching abroad sheds A LOT of light on developing cultural humility.
Developing a sense of cultural humility recognizes that your perspective on life or cultural norms aren't "better" or superior to others'. We all inherently assume our cultural upbringing (such as shaking hands when greeting one another, or wearing shoes in the house) is standard, which is why culture shock happens when we're placed in a completely new environment. This internal struggle ultimately leads to adaptability and humility in recognizing that there is SO MUCH we can learn from other cultures around us (ex. Students' high respect for teachers in Thailand).
You'll likely stand out while living in a foreign country as a minority. This challenges you to reflect on your cultural lens (things that have shaped your worldview). Visiting a country for a few weeks time doesn't allow you to undergo this kind of self-reflection. No matter what path you go down after teaching abroad, this growth will serve you well in the long run.
See also: Cultural humility
---
8) An easy foot-in-the-door for future opportunities to work abroad
Curious about expat life? Teaching abroad gives you a foot in the door to continue work and life abroad. By already having work experience and presently living in that country, scoring another job is relatively easy. This gives employers a sense of security, knowing you'll be around for some time and have already adjusted to living in their country. Foreign employers would much rather choose someone already in their country as opposed to someone still living in their home country.
---
9) Stand out from other applicants when applying to jobs back home
Listing "teaching abroad" on your resume clearly stands out amongst the rest of your competition when applying for jobs back home. Adaptability, clear communication, and collaboration are just a few strengths that come with teaching abroad.
Think about it – your job requires teaching core subjects to students who don't speak your native language. Plus, you're expected to hold their attention for the duration of each lesson (trust me, this can be exhausting!). This definitely strengthens your leadership capabilities and communication skills! Employers, no matter what field you apply in, will be impressed with your ability to adapt to a completely new environment with language barriers and culture shock.
In addition to improving your skills, you'll have countless personal experiences to rely on during an interview. Anecdotes of teaching abroad in Thailand or South Korea will be much more memorable than someone sharing a customer interaction from a past job experience. You'll appear open-minded and adaptable to change just by sharing stories of life abroad.
---
10) Create memories of a lifetime
Your time teaching abroad is precious and will leave a lasting impact on you and your students. Despite the challenging moments in the classroom, you'll never forget those kids and will look back fondly on those days. And one of the biggest perks, the chance to travel fresh out of college, is priceless. Not many are brave enough to drop everything to live in a new country and fully immerse in another culture. However, the relationships you create with locals, humility in learning from a new cultural perspective, and the freedom to country-hop, outweighs any job you'll get straight out of college.
---
So now when someone asks, "what are your plans after college?", will it include teaching abroad?
Have you taught abroad or are currently teaching abroad? Share your experience in the comments for other readers to see!
Check out my other resources on teaching abroad:
How to Start Teaching Abroad
Cultural Differences in the Thai Classroom
What You Can Expect in a Typical Day Teaching in Thailand
Celebrating Teachers' Day in Thailand (Wai Kru Day)
Recommended programs to teach abroad
JET Program USA (Japan)
CIEE – The program I used to teach in Thailand!
EPIK (Korea)
International TEFL and TESOL Training
International TEFL Academy
Like what you read? Save it for later!