This post may contain affiliate links, which means I'll receive a commission if you purchase through my link, at no extra cost to you. Please read full disclosure here.
Southeast Asia is full of diverse interests for every young woman to enjoy! As a solo female backpacker, the goal is to pack as lightly as possible, bringing only the essentials.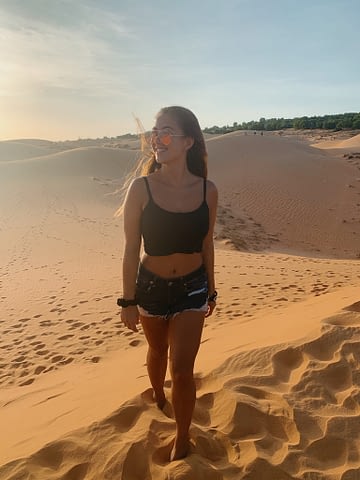 Here is your all inclusive packing list for solo female travelers in Southeast Asia!
Visiting Thailand soon? Check out the top 25 Things to do in Thailand as a Solo Female Traveler
---
Suitcase or backpack?
For solo travelers, backpacking backpacks are the best option! Especially when it comes to staying in hostels and country hopping, they're the most convenient.
In my experience, a suitcase was more difficult to travel with and harder to store in hostels. Their structure can also add unnecessary weight (which is an airline fee you DON'T want to pay for!) as opposed to backpacks.
Hostels are much more accommodating to backpacks (you'll almost never see a suitcase amongst solo travelers).
Check-in or carry-on?
The goal is to be minimalistic, packing only what you can't find inside the country. Depending on the airline, you may have to check-in your backpack, but aiming for carry-on is the best way to save some money (especially since luggage is charged by the kilo).
---
Clothing
1) Modest shirts and pants
Temples have a strict dress code! Shoulders and knees are to be covered at ALL times. You won't be allowed in unless you're appropriately dressed.
2) Maxi dresses and jumpsuits
Also perfect for temples! (and they make for cute Instagram pictures!)
3) Lightweight/airy shorts and tank tops
These are your go-to when exploring cities and spending time at the beach. Keywords: LIGHTWEIGHT and AIRY
4) Bikinis/swimsuits
Unlike temples, there isn't a standard for swimwear in Southeast Asia. Since beach cities are typically the "touristy" destinations, you'll find a range of swimsuits from full-body cover ups to thong bikinis.
5) Lightweight rain jacket or poncho
Definitely have these ready if you're visiting during rainy season (May through October). Although you can purchase them in Southeast Asia, their quality may not allow them to last very long (plus, the prices skyrocket due to supply and demand). I recommend purchasing them ahead of time.
---
Shoes and footwear
1) Tennis shoes (breathable)
Whether you're country hopping, hiking, or zip lining, breathable tennis shoes will do the trick by keeping your feet airy and comfy.
2) Slippers/Flip flops
3) Back-strap sandals
Many rooftops bars and clubs have a specific dress code, which includes back-strap sandals (or shoes). Check their websites ahead of time!
---
Daytime accessories
1) Lightweight backpack
Make sure your backpack is sturdy and held on tightly! In tourist hotspots, drive-by robberies happen! And if relaxing at the beach, don't let your bag out of your sight!
These are two of my favorite brands when it comes to daytime backpacks!
2) Crossbody bag
A cute, fun accessory for a night out! And if you're in a tourist destination, ensure it's wrapped around your body and faced away from the road.
Pro tip: purchase a woven crossbody bag anywhere in Southeast Asia for $6-$10 USD (see Amazon link for reference).
3) Fanny pack
If you want to be hands-free, this is the way to go. Especially if you're going out clubbing, this accessory is a MUST.
Note: Although you can purchase fanny packs throughout Southeast Asia, I highly recommend purchasing them before traveling. During my time abroad, I purchased 3 and each lasted about a month before breaking.
4) Hat
I recommend saving yourself luggage space and purchasing these in Southeast Asia! The ones linked below are the most popular (and make for cute beach pics!)
5) Sunglasses
Be sure to remember these before you leave home!
6) Pareo/Sarong (or any sort of wrap skirt)
This is one of the best purchases you'll make in Southeast Asia! They're so versatile and can be used either as a beach mat, or a wrap when visiting temples! These are most commonly sold on the beach between $5 and $10 USD.
Toiletries
1) Sunscreen
Sunscreen is a MUST when it comes to solo budget travel! Although sunscreen is sold at just about any convenience store, the bottles are smaller and sold at a much higher price compared to the United States. A $2 tube of sunscreen in America retails for around $10 in Southeast Asia.
Sun Bum is my favorite brand! Their products are paraben free, vegan, hypoallergenic, cruelty free, and reef safe!
2) Tampons/Menstrual cup
Tampons are rare in Southeast Asia; I've only seen them at a couple stores during my 8-months there. If you're planning on staying for an extended period of time, I recommend saving luggage space by taking a menstrual cup!
The following toiletries can be purchased in Southeast Asia (at any 7/11, Family Mart, or Circle K)
NOTE: many products contain whitener! Be on the lookout for labels that say "bright" or "white". Here are the most common products you'll find in Thailand!
3) Mosquito spray/lotion
4) Face wash and moisturizer
5) Hand sanitizer
6) Body lotion
7) Deodorant (spray is most common in SE Asia)
8) Shampoo & conditioner
9) Body wash
10) Toothpaste & toothbrush
---
Miscellaneous
1) Phone charger
I don't about you, but as a solo traveler, my worst nightmare was losing or breaking my phone charger. You can find chargers abroad (lightning connecters are more difficult to find), but it's better to be prepared ahead of time!
2) Outlet converter
American plugs fit in most outlets, however Southeast Asia has a different voltage. For instance, Thailand's voltage is 220 volts at 50 cycles per second, compared to 110-volt current in the United States. To avoid burning out your electronics, be sure to pack an outlet converter.
3) Earphones/Headphones
The most common earphones you'll find abroad have the original headphone plug (lightning connectors are harder to find). I HIGHLY recommend this extremely handy AirPods case! It comes with a snap hook and has a cover for charging. This makes it so easy to ensure your AirPods are safe and secured at all times (and easy to spot in your backpack!).
4) Portable charger
ALWAYS have this charged up and ready to go!
5) Camera or GoPro
You can't travel without documenting your experience abroad! These are the highest rated cameras for traveling abroad.
6) Travel cubes and an assortment of mesh bags
These are ESSENTIAL for solo travel! They easily keep your belongings organized and save SO much space in your backpack!
7) Umbrella
When rainy season rolls around, you'll want to have one on hand! If you purchase one abroad, it'll likely cost twice as much due to its demand during rainy season.
8) Digital luggage scale
I HIGHLY recommend purchasing this lightweight travel scale! It's compact and very easy to use. This relieves me from the stress of guessing the weight of my luggage (and praying they're under 7 kg). This is by far the BEST purchase I've made when it comes to solo budget traveling!
---
Share your packing tips and tricks for solo travel in the comments for other readers to enjoy!
---
Looking for other useful tips on traveling Thailand solo? Check out these!
Choosing an Ethical Elephant Sanctuary in Thailand
How to Properly Wai in Thailand
15 Mistakes to Avoid on Your Solo Trip to Thailand
Do's and Don'ts When Visiting Thailand | Tips for Solo Travelers
---
Like what you read? Save it for later!