Interested in teaching English in Thailand but aren't sure what to expect? Keep reading to get a glimpse at what a typical day looks like teaching English abroad!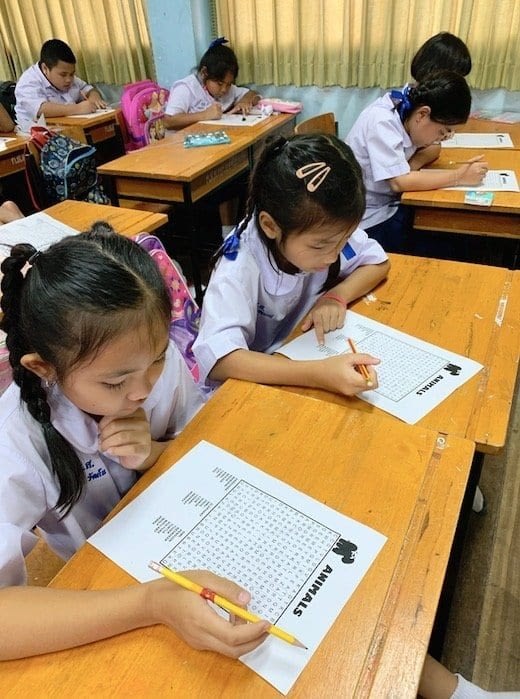 Check out my post, Teaching in Thailand, where I unfold teaching within contrasting cultures.
Teaching English abroad: a day in the life
A typical day teaching English abroad looked like this
Head to school at 7:50 AM
Morning assembly at 8:15 AM
Teach 1-2 classes
Grab lunch at 11:30 AM
Teach another 1-2 classes
Head back to the apartment at 4:30 PM
Rest and grab dinner
Relax and go to bed around 10:30 PM
The school day began with everyone gathered at morning assembly. Students were arranged by prathom (grade), and within each class, students formed two lines: one for girls, and one for boys. Around 8:15 AM, students sang the national anthem while the Thai flag was raised. Everyone was to stop wherever they were and stand at attention until the anthem was over. This was followed by a Buddhist prayer, and any announcements, presentations, or awards. The assembly lasted anywhere from 10 to 45 minutes. Students usually stood for the duration, but sat if teachers anticipated a longer assembly. They were dismissed by class in an orderly line with their hands folded behind their backs.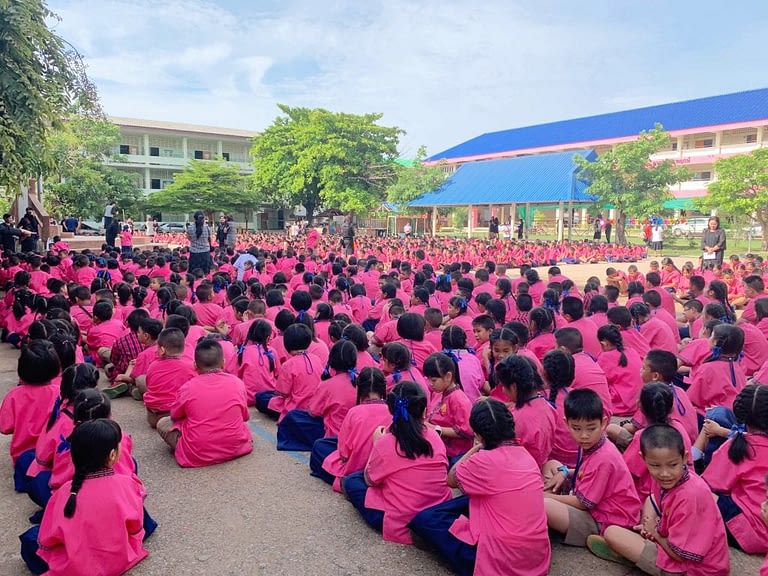 I taught English in the ESM (English, Science, and Math) program to prathoms 1 through 6, seeing each class three times a week: twice for English class and once for after school phonetics. The school provided workbooks, cd's, and flashcards for me to follow. Each classroom was equipped with a projector, microphone, and most importantly … AIR CONDITIONING! Classes were an hour long and had approximately 40 students in each. A Thai teacher taught alongside me and helped translate any communication difficulties that came up (and there were many!).
Students brought a small supply of necessities to school including: workbooks for each subject, pencils, colored pencils, and pens. The school provided me with the essentials: printer paper, scissors, glue, and pens. Additional supplies were at an out-of-pocket expense.
To catch their attention, I began every class with a video or dance. They (especially P1) looked forward to this every class and began requesting their favorite ones. Without fail, every class would say, "Teacher! One more time!" after the video ended. I caved and played the videos no more than three times just because I knew they were sitting most of the day and needed to get all that energy out.
Songs and dances the kids loved
Games and little competitions were the best way to keep kids engaged throughout lessons. Their absolute favorite was hangman! This built their ability to rely on the alphabet and piece together missing letters to form a word. I started out with a single vocabulary word, and eventually built up to a sentence. Once they solved it, I had every team repeat the word or phrase multiple times to help ingrain sentence structure and pronunciation.
Games the students enjoyed
Hangman
Four Corners
Musical Chairs
Jeopardy
Any sort of "race to the board" activity
---
Challenges that come with teaching English abroad
The size and communication barrier definitely proved to be the biggest challenges I faced teaching abroad. Students were best behaved when a Thai teacher was present. When I was the only teacher in the classroom, it took a tremendous amount of energy getting them to settle down. Most times it felt more like crowd controlling, rather than teaching, which was exhausting both physically and mentally. Once they were seated, it was only a matter of time before they started getting restless again and needed a break.
Students in the ESM program were bunched into one class per grade, and thus, math, reading, and science levels varied tremendously. As you can imagine, this made pacing lessons challenging because while some students picked up quickly, others struggled to even understand what I was saying. I learned to speak slowly and clearly, and avoided using slang when communicating with the kids. Repetition and hand gestures were key in helping them retain new vocabulary words.
After school fun!
Us foreign teachers all agreed that Thailand's after school snack game was strong! An hour before students were released, around 10 vendors set up to sell snacks and trinkets just outside the schools' gates. These treats included: sushi, french fries, ice cream, soda, instant ramen, action figures, and my personal favorite – pancakes!
One afternoon, Tonliew (a P3 student) stopped by my desk to tell me that her favorite food was pancakes – specifically those from one of the vendors. Naturally I had to taste the hype! She walked me to the stand where mini pancakes were sold for 5 baht each. From that day on, every so often we would head over to grab some pancakes for that quick after school fix.
---
My last day teaching abroad
Emotions flooded as September rolled around. I was ecstatic to begin my travels around Asia, yet my heart ached knowing I may never see these kids again. On my last day, I taught the usual classes in the morning. Then after lunch, my coordinator took me around to each classroom to say goodbye. I was overwhelmed with love, hugs, photos, and social media connections. Many of them gave me farewell gifts, such as homemade cards, pens, origami, and trinkets to remember them by. After school, Tonliew and I decided to get one last pancake together – it was a bittersweet moment. Saying goodbye gave me so much to be grateful for, both in reflecting over the semester, and looking at what was to come in the months ahead.
Teaching these kids that are tucked away in northeast Thailand wasn't always easy, but will forever hold a special place in my heart. Never in a million years would I have thought that I would be teaching abroad. It's been several months since I last saw the kids and I miss them dearly each and every day. The culture shock I faced living in a foreign environment, along with challenges at school, changed my worldview so drastically and allowed me to develop a stronger appreciation for cultural differences. Whether I decide to teach again or not, I'm so grateful to have had this opportunity to not only teach students, but allow them to teach me a multitude of virtues, including gratitude, respect, and patience.
---
Like what you read? Share it to Pinterest!
Additional Resources